Exclusive Video Premiere: Todd Mihan, "Battleground"
ARTISTdirect.com has partnered with indie musician Todd Mihan, who specializes in guitar-charged country rock, to premiere the video for his song "Battleground," from his self-titled album, which is out this month. The clip was directed by Keith Megna, who has worked with Sheryl Crow and Beck! Not too shabby.
"It was great reconnecting with my long time friend and director Keith Megna for the 'Battleground' video shoot," Mihan, who was born in Memphis but raised in upstate New York, told us about the clip. "'Battleground' is a very personal song for me. It reflects the many years of struggling through a toxic relationship, and it's eventual end. Keith found the perfect location and truly captured the essence of the song on film."
The video features Mihan playing –there's some close ups of him finger picking his acoustic guitar against a graffiti backdrop-- and staring directly into the camera. There's even two Todd Mihans at one point. It's a simple, stark clip but sometimes that's all a musician needs to make a point. It works for this song and this artist, since it allows the words and music to be the focus.
Country star Josh Thompson comments on my song "Whiskey Thunder"...
" I like this song. The verse/lift/chorus structure is great. I love the melody, I totally understand it. "
Josh has written songs for Brad Paisley, Jason Aldean, and many others.
---
"Todd Mihan and Downside Joyride have all the ingredients that, in my humble opinion, are necessary in order to stand out from the endless competition out there....great playing, vocals, recording/production, killer guitar tones & most of all solid songs - especially the title track Long Way Home. A really strong debut CD from a band that I hope gets the attention they truly deserve. "
- John Platania ( guitarist Van Morrison, Chip Taylor )
---
""Todd Mihan's talent as a songwriter, guitarist and producer are obvious from the first track on. The more I hear Todd Mihan & Downside Joyride's music- the more I love it. The melodies, guitar licks and lyrics get stuck in my head. Just listen to "Pushing My Luck" and tell me there's a better song on the radio right now- I don't think so!""
- John Goodwin- Upstate NY, Manufacturers Representative for SHURE Inc.
"Singing. Songwriting. Guitar Playing. Unique talents that most of us lack. Few of us get one of these gifts. Todd Mihan has been blessed with all three. Rarely have I met someone who excels in each. Todd is just that person. His ability to put his thoughts to music is second to none. He then communicates those thoughts with his soulful honest voice, and phenomenal fretwork. Downside Joyride is certainly a band on the rise, and Todd will lead them to great heights."

- Tom Lanahan (KMC Music - Ovation Guitars)
"Downside Joyride is gonna make you remember why we love blues/rock music all...over...again !!"

- Indie Music Lounge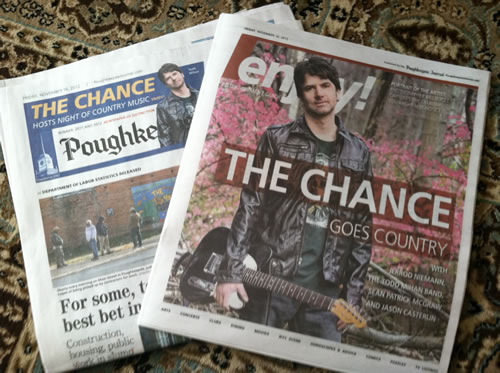 Check me out on the cover of the Poughkeepsie Journal's Enjoy Section 11-16-12!
Country music to rock hallowed Chance tonight - Niemann, Mihan, more hit rock 'n' roll haven tonight
Drive east from Poughkeepsie on Route 44 and the landscape changes, from urban to pastoral, city to country.
The stretches that lie between Pleasant Valley and Millbrook, and Millbrook and Amenia are framed by farms and fence posts, valleys and vistas. As you make your way through one of the Hudson Valley's most beautiful regions, you just might start thinking about Kentucky or Tennessee, and forget for a few minutes that one of the world's largest metropolitan regions sits just a couple of hours away.

The atmosphere that open spaces, winding hills and dirt roads evoke will also be illustrated tonight at The Chance in Poughkeepsie, when one of the nation's most hallowed halls of rock 'n' roll hosts a night of country music. The Crannell Street venue — where The Police, Peter Frampton, Bob Dylan and David Bowie have all performed — will chime with a genre of music that has a wide reach, from the crooning of Patsy Cline to the pop sensibilities of Taylor Swift. Country musician Jerrod Niemann, who has achieved chart success with his take on the tune, "Lover, Lover," as well as the song, "Shinin' On Me," will headline tonight's concert. Niemann will be joined on the bill by The Todd Mihan Band, Sean Patrick McGraw and Jason Casterlin.
"Jerrod Niemann is the new blood in country music," said Tommy Lee Walker, morning host on Poughkeepsie-based country music station WRWD (107.3/99.3 FM). "He's in with the new young guns — Lee Brice, Brantley Gilbert, Justin Moore, all these new guys who are really keeping it country, but at a fast pace."

Walker also gave credit to Mihan, a Hyde Park resident he has seen perform. "He has a lot of fun," Walker said of Mihan. "He hasn't forgotten how fun doing a live show is."

Mihan, 42, has been a musician for 28 years, but embraced country music only recently. "I was more on the hard rock thing," he said.
That changed five years ago, when Mihan, "really started writing songs," he said, and began tilting toward country music."The more I was writing songs, the more I enjoyed listening to the lyrics of country, and the stories," said Mihan, who grew up in Pleasant Valley. "I was always part of rock bands. When I was free of being in bands, I bought a house, I built a studio in my house, I was demo-ing things up. It just naturally went toward country."

Mihan's origins might have also helped carve his path to country music. He was born in Memphis, Tenn."It possibly might have," he said, "I can't say that it definitely did. My guitar playing has always been on the bluesier, South-ish side."

John W. Barry: Poughkeepsie Journal